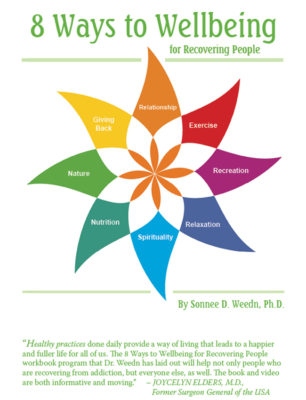 8 WAYS TO WELLBEING For Recovering People
by Sonnee Weedn, Ph.D.
Therapeutic Lifestyle Changes (TLCs) identified in 8 Ways to Wellbeing for Recovering People are an under-utilized, but profoundly effective treatment for optimizing mental health and supporting recovery from most psychiatric issues, such as addiction, anxiety, depression, eating disorders and trauma.
Based on the exhaustive research of Roger Walsh, M.D., Ph.D. At the University of CA at Irvine, these TLCs described and amplified in this workbook serve as core curriculum for inpatient or outpatient programs, as well as individual use.
Why "lifestyle changes?" Because research shows that Therapeutic Lifestyle Changes, such as changing one's diet, getting regular exercise, relaxation, healthy recreation, time outdoors in nature, fostering supportive relationships, a spiritual practice and service to others, can be enormously beneficial for both mental and physical health and well being.
TLC's can help with addiction and reduce the risk of relapse. Of course, Therapeutic Lifestyle Changes are not the whole answer; no one thing is. However, they are a very valuable and proven modality in recovery treatment.
Dr. Weedn's 8 Ways Workbook brings TLC's to the recovering person through an easy to use, yet very effective means; a well thought out road map towards positive change that supports recovery on many levels.
Purchase your copy $30+$5 Shipping - email Lorien@DrSonneeWeedn.com
We offer a bulk discount when purchasing 5 or more books. For bulk book pricing please email Lorien@DrSonneeWeedn.com.
---
CONGRATULATIONS TO DR. SONNEE WEEDN
FOR "8 WAYS TO WELLBEING FOR RECOVERING PEOPLE"
WINNING THE FOLLOWING AWARDS!

INDIE BOOK AWARDS
The Next Generation Indie Book Awards is the largest International awards program for indie authors and independent publishers. In its fourteenth year of operation, the Next Generation Indie Book Awards was established to recognize and honor the most exceptional independently published books in over 70 different categories, for the year, and is presented by Independent Book Publishing Professionals Group in cooperation with Marilyn Allen of Allen O'Shea Literary Agency.
1st PLACE WINNER
CATEGORY: Self-Help
"Healing from addiction is hard work for those in recovery and those who love them. 8 Ways to Wellbeing by author Sonnee Weedn, Ph.D. teaches healthy practices that when done daily will provide ways of living that lead to a happier and healthy life. Informative and moving."  -- Next Generation Indie Book Awards Judge
---
NAUTILUS BOOK AWARDS
The Nautilus Book Awards are named for the mollusk, whose beautiful pearl-lined shell contains chambers of increasing size, which the sea creature constructs for itself as it grows. The nautilus symbolizes both ancient wisdom and expanding horizons, the elegance of nature and a continual growth of understanding and awareness.
One of the goals of Nautilus Book Awards is to energize the interconnections between books, authors, publishers, readers, and communities -- and to be responsive to the world through WORDS. We wish to contribute to the greater platform where new alternatives are not only possible, but inevitable as the human imagination emerges in greater creativity, coherence, integrity, inter-connections, and peace-making, for the good of all.
SILVER AWARD
CATEGORY: Psychology
---
INDEPENDENT PUBLISHER BOOK AWARDS
The Independent Publisher Book Awards were conceived in 1996 as a broad-based, unaffiliated awards program open to all members of the independent publishing industry, and are open to independent authors and publishers worldwide who produce books intended for an English speaking audience.
The IPPY Awards reward those who exhibit the courage, innovation, and creativity to bring about change in the world of publishing. Independent spirit and expertise comes from publishers of all sizes and budgets and books are judged with that in mind. Gold, silver and bronze medals are awarded to winners in national subject categories, regional categories, and e-book categories.
BRONZE AWARD
CATEGORY: Psychology / Mental Health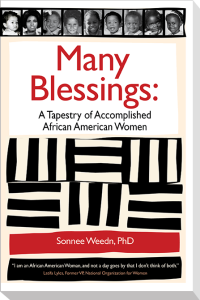 MANY BLESSINGS: A Tapestry of Accomplished African American Women
by Sonnee Weedn, Ph.D.
Quite some time ago I began to think about what forces help to create leadership and resilience in women. I began thinking about the confluence of the Civil Rights Movement and the Women's Movement, and how these two forces allowed African American women to emerge in greater numbers as leaders in ways not possible in past generations. This lead me to wonder about what it was in successful African American women that helped them persevere through hardship and obstacles to come forward to claim their destiny.
These musings were the impetus for my book, Many Blessings: A Tapestry of African American Women, which contains interviews with 30 accomplished African American women and chronicles the stories of their lives and their advice to other women of all ethnicity.
It was an amazing journey of discovery and delight! The interviews are divided into seven categories of character strength that I believe embody the essence of the unique legacy of African American women.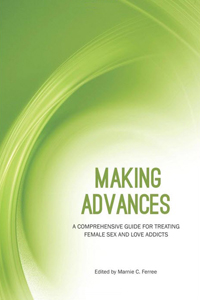 Making Advances: A Comprehensive Guide for Treating Female Sex and Love Addicts
by Marnie C. Ferree (Editor)
-- Dr. Weedn was a contributor to Chapter 5 --
A ground-breaking work,
Making Advances
is the first book to offer a targeted approach for effectively treating women who struggle with sex and love addiction. This long-overlooked population faces significant challenges, including a lack of trained therapists who understand their unique pain.
Making Advances describes the problem, explores its biopsychosocial roots, and thoroughly outlines the assessment and diagnosis process. This critical text emphasizes the importance of the therapeutic relationship and describes how treating female sex and love addicts is different from treating men. It delineates the best practices for conducting group therapy, arresting acting out, addressing attachment injuries, and working with male partners of female sex addicts as well as other special populations.
Finally, Making Advances explores the process of a female sex addict's growth into a woman of grace and integrity through building healthy relationships, healthy sexuality, and healthy living practices. Editor Marnie C. Ferree and the gifted writers provide a research and attachment-based treatment guide that is already the standard in the field.